The Foundation was created to "Provide opportunities for our kids to succeed in education by reducing barriers".
We are not raising funds to build grand buildings, rather we are focused on building up students' self-belief, and giving them the tools and support to achieve their goals, and become the best they can be.
Reducing barriers to education sometimes involves relatively small value items - e.g. stationery, sports uniforms and fees, and even winter shoes - but for some students these mean the difference between being able to learn and participate, contribute, and feel part of their school community, or not.
Chromebooks are also purchased for students who would not otherwise have them, especially if they don't have broadband in their own home, which is part of breaking down the 'digital divide' and puts them on more equal footing in the job marketplace, affecting their aspirations beyond school.
Below are a few examples of students who have been helped in various ways - please take a moment to watch the videos and read how the Foundation makes a difference.


Other areas we have supported are: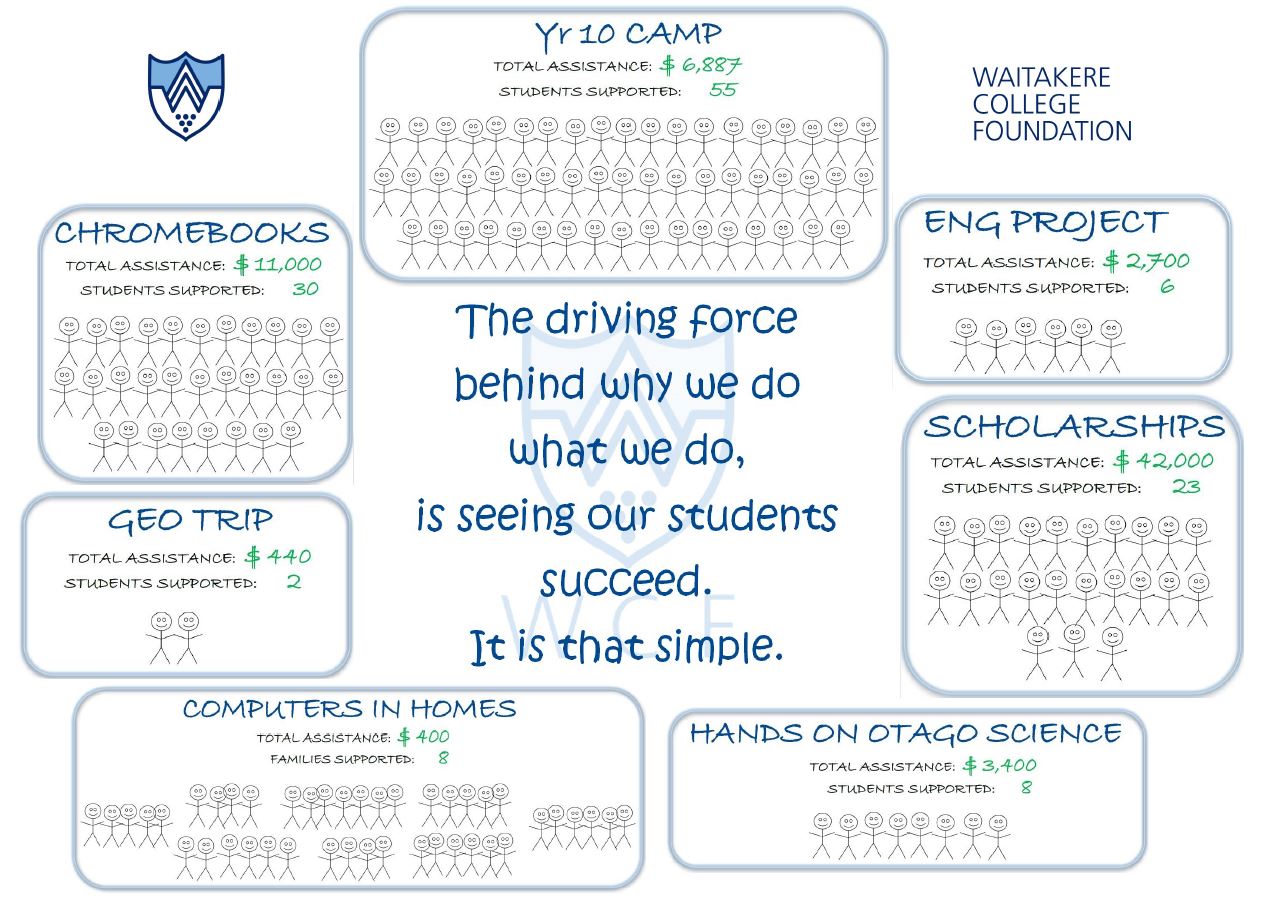 Recipients of Camp Fees Assistance from WCF in Yr 10
The Year 10 School Camp is an amazing fun-filled chance to make new friends and build confidence by trying new experiences - some of these students have never been camping or spent time in NZ's bush and beach environments. Important life skills are learnt and it becomes a highlight of their 5 year school career for many - but due to family finances each year when the time comes, the opportunity for many students to go on camp starts to slip away. The Waitakere College Foundation works with teachers and Deans to ensure those deserving students don't miss out on this fantastic memory-making adventure.
2016: 12 students were partially or fully subsidised to head off onto their camp
2017: 29 students were partially or fully subsidised to head off onto their camp
2018: 11 students were partially or fully subsidised to head off onto their camp
2019: 12 students were partially or fully subsidised to head off onto their camp
Feedback from students who have attended their Year 10 Camp with the help of the Foundation:
* I feel grateful that the school paid for the Year 10 Camp because going on this trip made me communicate with others and become closer to school.
* Dear Foundation. I just wanna say a big thank you for being able to afford to take me to camp instead of being in school. I really had a fun week. I really enjoyed myself. I got to spend time with my mates, got to do a lot of fun activities. I actually got to know people well. If I didn't go I wouldn't have this opportunity to do it so thank you!!! Thanks.
* I really enjoyed going to camp because I got to be with my friends, did heaps of activities and enjoyed every bit of it. I got the experience of going kayaking and made more friends.
* Hi WCF, Going to the camp was a very rewarding experience. Over there I found some new friends and I learned a lot about working in a team and communicating.
* Dear foundation thank you for the sponsorship because it was my very first time getting sponsored, and I am greatful for getting sponsored. Thank you soo much yes I enjoyed camp I meet more new friends which they are now my best friends thank you. And it was good for my mum because I knew she would of had troubles for paying for my camp soo thank you very much........
* Dear foundation, I just want to say how grateful I am to have you contribute a lot in order for me to be allowed to attend this camp, this is my favourite camp of all time, I got to meet new friends, make new memories, explore a little bit more of New Zealand and it allowed me to stay off of my device for a week. I really enjoyed talking to people that I see around school but don't usually communicate with, I enjoyed all the activities, the sight seeing, the hikes and just the bonds that were created through this camp. When people mention year 10 camp, I remember it as one of the bestest most funnest camps I've ever had and I just want to thank you for making it possible, without your help I wouldn't be close friends with the people I hang around today, I wouldn't have seen the beautiful beaches that we have here in New Zealand and I wouldn't have been able to experience the activities we had. I will always remember this camp as one of my most treasured moments, thank you so so much for your contribution.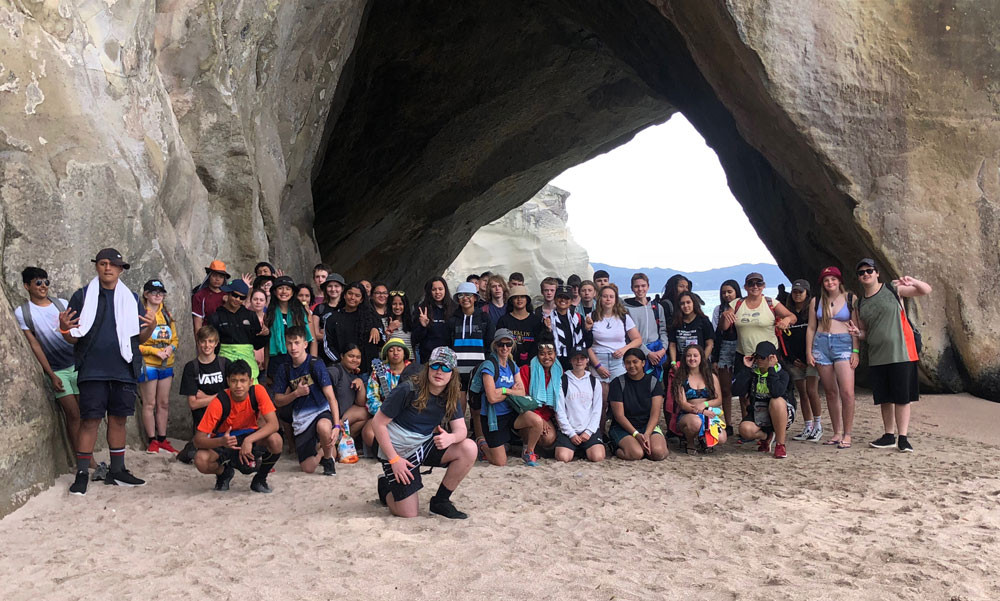 Recipients of Year 11 NCEA Geo Trip
The Year 11 GEO Trip is part of the students NCEA schedule. It plays a large part in their ability to obtain a higher final grade for the year.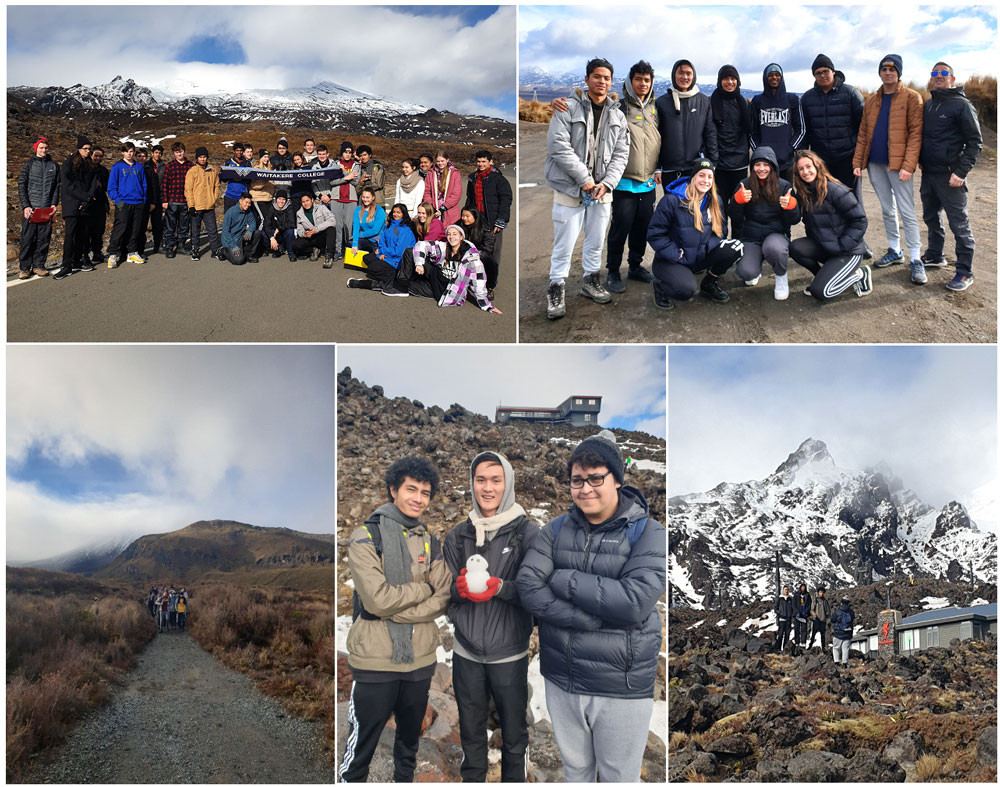 Feedback from students who have attended their Year 11 GEO Trip with the help of the Foundation:
* Dear Foundation, Thank you so much for allowing me to take part in the Geography trip to Christchurch last year, this helped to form a closer bond between me and my classmates ensuring that i was getting the work done, so again thank you so much for giving me the opportunity to approach Geography first hand.
Recipients of WCF Scholarships on leaving school
These are given to hardworking students, who could potentially miss out on a life-changing chance to enter into further academic study, or a high-end trade, due to financial barriers.
2016: 4 academic scholarships being awarded to a total of $15,000
2017: 12 scholarships awarded: 6 x $1,500 to those furthering their education academically, and 6 x $1,500 to those who had worked hard to secure a trade apprenticeship to support them with trade tools and block courses for a total of $18,000
2018: 6 x $1,500 scholarships awarded for a total of $9,000
2019: 7 x $1,500 scholarships awarded for a total of $11,500