Ashleigh Donaldson & team competed in the Unders 20s Ultimate Frisbee World Championships.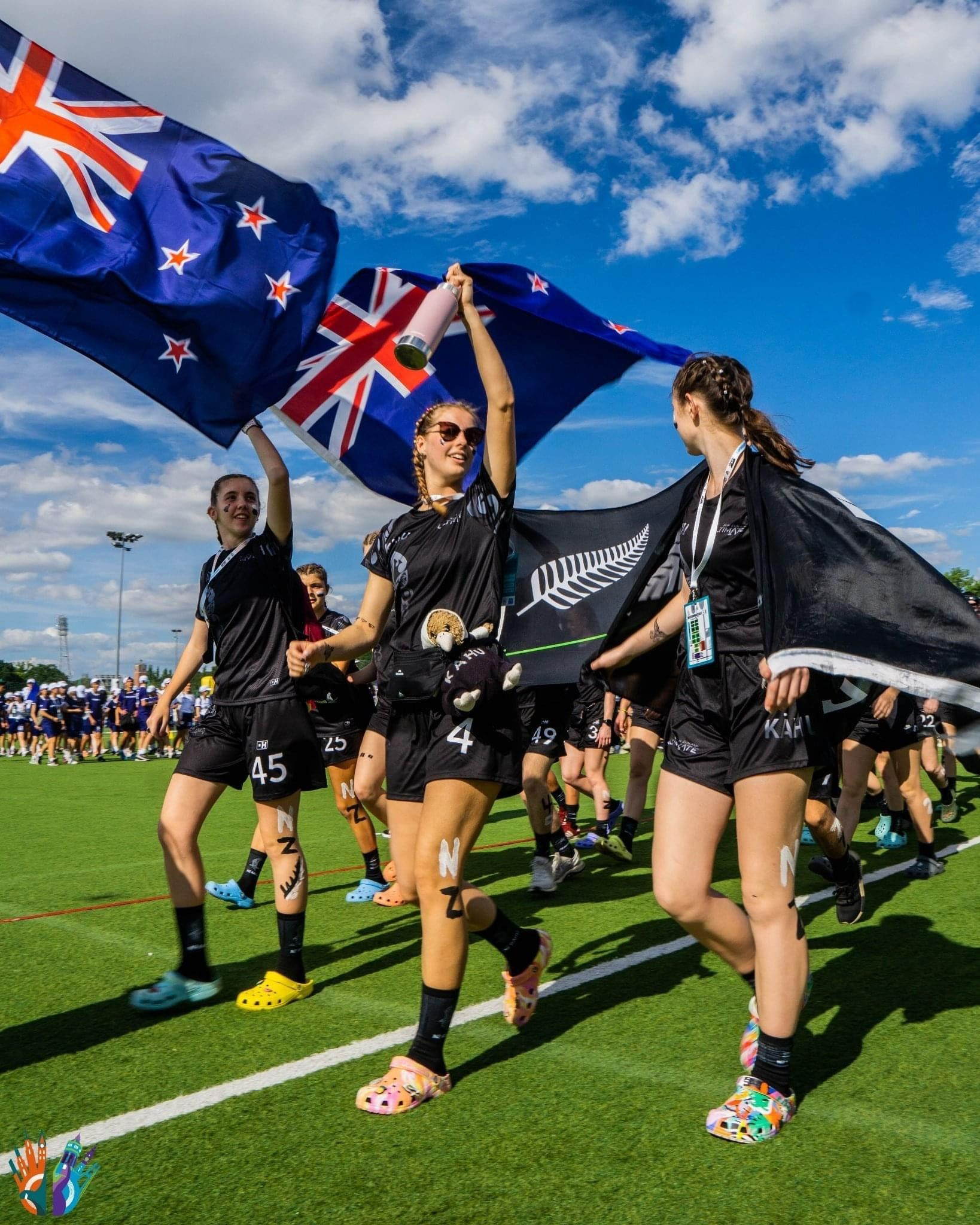 Hi, I'm Ashleigh, a year 12 student who recently came back from Poland after competing in the World Junior Ultimate Championship. 20 females and 20 males (under the age of 20) from all around New Zealand were selected to fly to Poland to represent New Zealand. The female team was called Kāhu and the male team was called Katipō. Both teams placed 6th in their divisions. We came sixth in the world!!!
New Zealand Kāhu came second in spirit ( spirit is a huge part of ultimate frisbee)
We were away for nearly 3 weeks - roughly 4 of those days were spent on a plane. We spent the first week in Poland mostly site seeing and getting used to their climate and timezone. Poland is 10 hours behind New Zealand and because they are in summer, it was anywhere from 32-38 degrees every day! We would train in the mornings for a few hours and then go site seeing in the afternoon. We visited one of the old salt mines, Auschwitz, the old town, old cathedrals and churches, a national park, and just a lot of the town areas. I even found a New Zealand burger house that made amazing burgers.
In the second week, we had a few warm-up games before the actual tournament started. These were against Poland and Italy. We won both of those. Then we had the opening flag ceremony where everyone dressed up and we sang kiwi songs and danced. I even lost my voice cause I screamed so much.
Then the actual tournament started. Over the first and second days, we played Austria ( we won 15-14), Italy (we won 15-9), and Germany ( we won 15-9). After that, we moved up into the power pool. Over the next few days, we played USA (lost 5-15), Czech (lost 14-15), and France (lost 6-15). We versed Canada in the quarter-finals (lost 9-15) then played Czech for fifth and sixth place. Sadly, we lost that game 9-15 and placed sixth overall.

It was a great tournament overall and I'm so proud of my team. However, Italy came 4th and we won against Italy twice ( with a good lead too) so we could have placed higher. I'm still so extremely proud of all of us.
It is very weird being back in New Zealand. Being in Poland was such a cool experience!! Some of the things I miss the most from Poland are the warm weather, how cheap everything was, and spending 2 weeks with my team. We all got so close while being away and I miss them very much. However, We have a Trans-Tasman tournament in October against Australia and Japan which is held in Auckland so I will get to see everyone again soon.
If anyone has questions about my trip, feel free to approach me and ask, it was such a great experience.