Placing 7th in the senior girl's category in the National Secondary School's Sport Climbing Competition.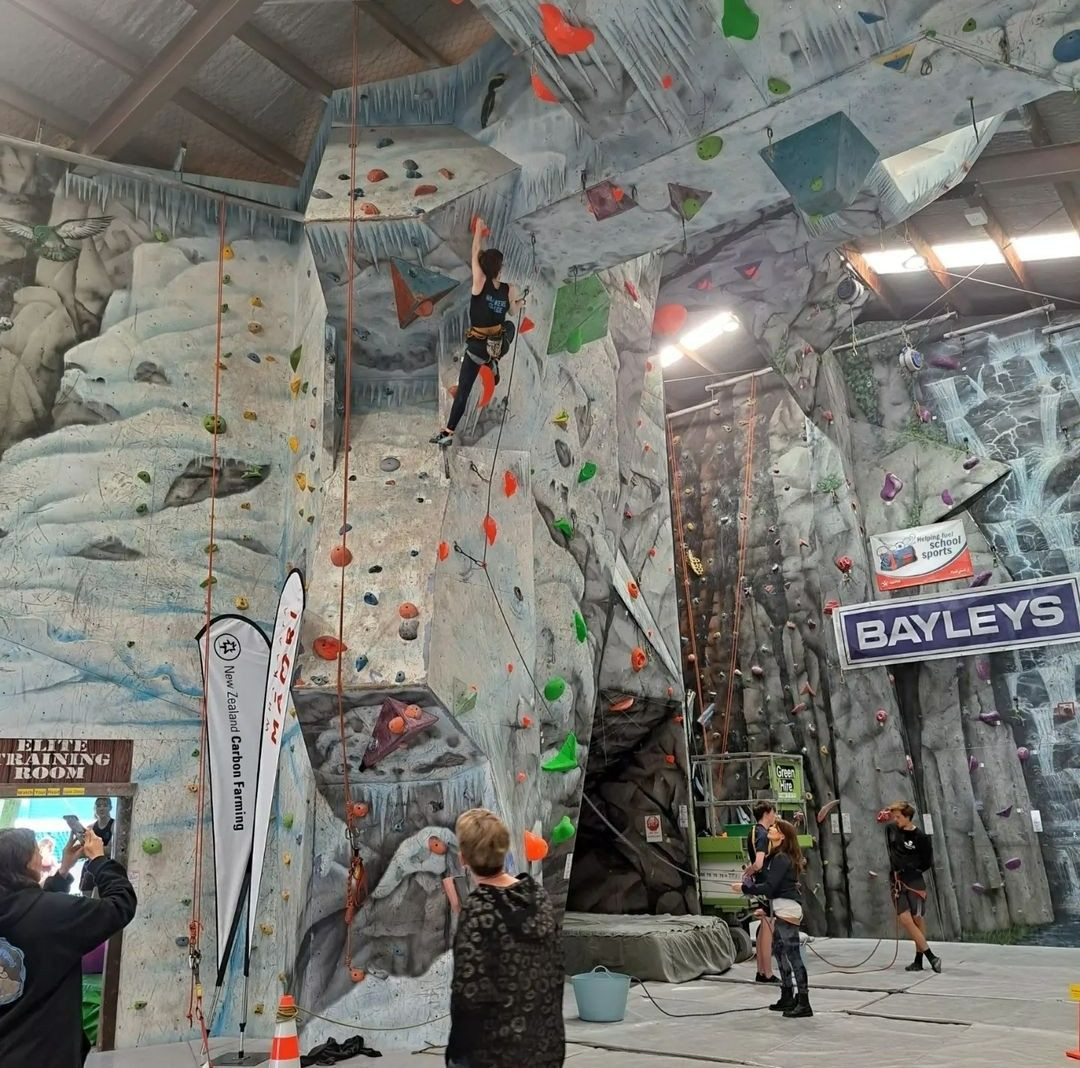 This comp took place in Mount Maunganui and spanned 2 days. It was held here as Tauranga has the only official Olympic-level speed climbing wall in New Zealand. 5 years ago there were only about 5 climbers who came down from Auckland. This year we brought down over 20. Climbing in Auckland has grown so much with new college series competitions also running now in Auckland.
This nationals comp was a combined competition meaning we would compete over the three disciplines of sport climbing to then come out with an overall score. The three disciplines are speed climbing, bouldering, and top rope/lead climbing.
Speed climbing is what it sounds like, how fast can you get to the top? A 15-metre wall at a 5-degree incline with the exact same holds in the same place at the same angle all across the world. Even the timers and safety systems are standardised and the same. Qualifiers were run on a different wall. Probably only 8 metres with a different route set on it. Qualifiers were scored solely on time with mine being just over 7 seconds. Finals were done on the official wall (which is outside and very cold and unpleasant at 7:30 in the morning!) and were run as knockoff rounds. My best time ended up being 37 seconds with the best time by anyone that day coming in at just over 11 seconds.

The other 2 disciplines work very differently in that they will be unique routes and problems at every competition. Bouldering is a form of climbing without a rope or safety system and just falling onto mats. Because of this, they are usually only about 3 metres tall. This style of climbing allows much more freedom of movement and you can set big jump moves or things upside down. Due to this bouldering is often much harder moves but shorter climbs. In a competition, if you fall off a bolder or don't complete it you can try again as many times as you want in the time given. In qualifiers, we had 3 minutes but had already seen and mapped out the climbs. We could also watch others climb it. In finals, we had 4 minutes but had not seen the climbs and we are kept in isolation until our turn to climb so we can't see anyone else do it. There were 3 boulders for both qualifiers and finals. In qualifiers I flashed the first 2 (completed them first go) and a zone for the third. A zone is like a mid-way point hold but I did not get to the end of the climb. With this score, we ended up with a 4-way tie for first in the boulder qualifiers.
The last discipline top rope (qualifiers) and lead (finals) are the big wall climbs with ropes and safety systems you probably imagine as climbing. This gym was about 10 meters tall for our climbs. In both of these styles of climbing, you will get one attempt, and when you fall you come down. Each hold will count as a point with the top one being worth a lot more if you properly finish the climb. In qualifiers, I finished the first 3 top ropes, Fell on the last move of the 4th, and got about halfway up the 5th. Across all 3 disciplines, this ended up placing me 6th in qualifiers with top 8 going to finals. The finals climb was run on a lead which is simply a different safety system that allows you to climb things like roof sections and big overhangs. It does however also create way bigger falls. I was unfortunately called down/penalised for accidentally using something that was marked off with black tape, which indicates something we can't use or is out of bounds. 2 other competitors also got called down for missing safety clips. One of these was arguably the best climber there and this mistake cost him first place putting him in third by the end. Overall it was a really fun comp and I love the climbing community as a whole and talking to and killing time in isolation with other competitors. Including heated debates over which boulder gyms are better. I know climbing isn't a very common sport and due to this, all the competitors are pretty good friends. I have friends from Wellington and Tauranga that were at the comp which makes it all the better experience.
Written by Indy Brown.