Winter sports have begun! Here is a one-stop shop of info for students and caregivers.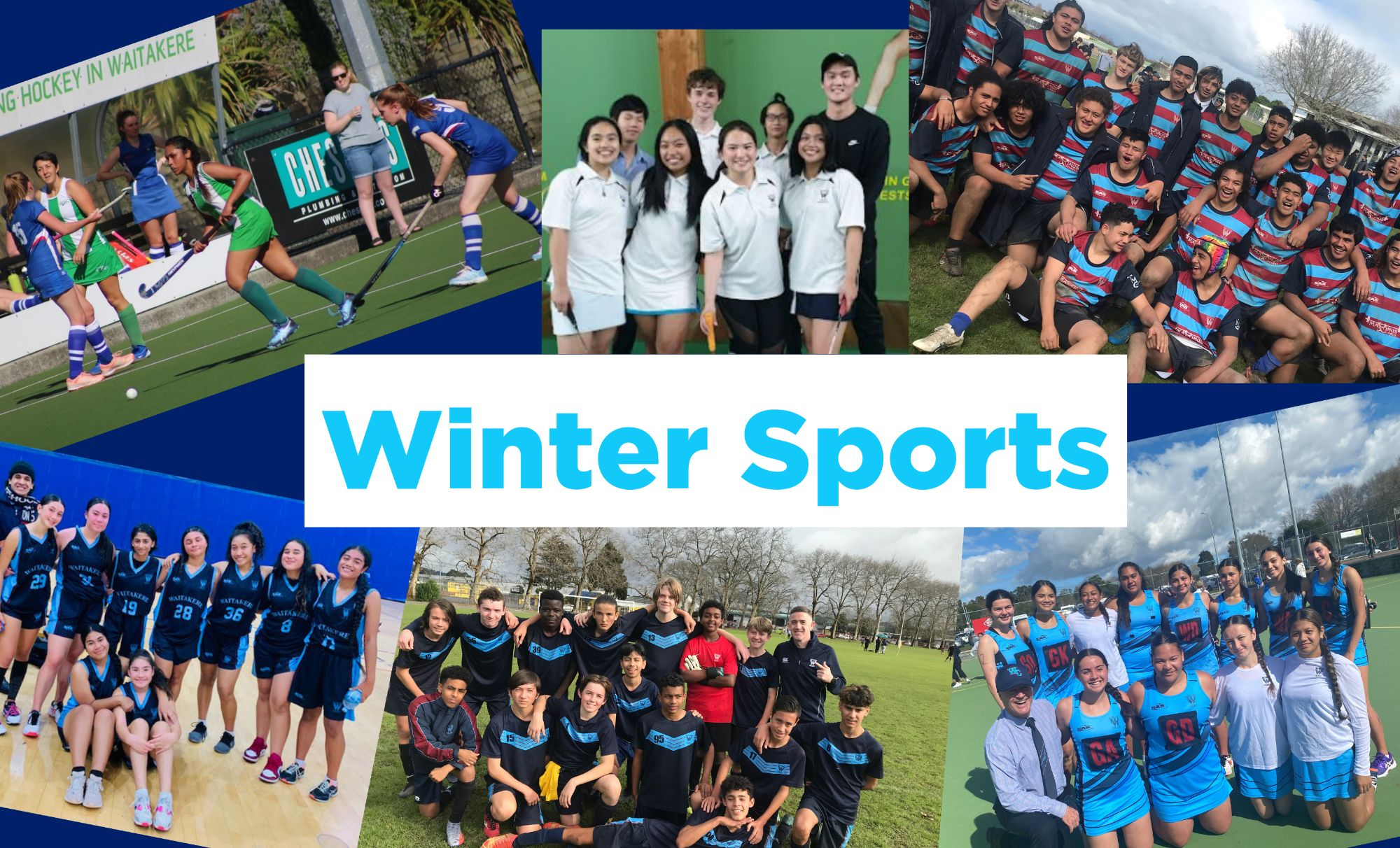 WINTER SPORT 2023
The start of Term 2 also sees the start of the winter sports season. The school will have over 40 teams playing across a number of codes.
We like to put the emphasis on the students taking responsibility, being organised and communicating information back to parents about training days, fees etc. but below is a bit of a one-stop shop for information regarding Sport at Waitākere College.
FEES:
Each sporting code has entry fees, equipment required and various other costs associated with running teams. As a result, each sport has a fee associated to help cover these costs:
Football $50
Netball $85
Rugby $50
Basketball $85
Badminton $50
Hockey $85
*If a student plays in two teams of the same sport they are only required to pay $100 to cover both teams.
**If a student plays two different sports they are only required to pay the highest fee e.g. a student plays basketball ($85) and Rugby ($50) you only need to pay $85 to cover both the sports fees.
Please pay these fees ASAP through the school accounts department. Fees can be paid off in regular instalments if required but this will need to be arranged ASAP:
Accounts Sue Borich [email protected]
DRAW INFORMATION:
Students will get information about games and meet times each week at training. Draws for most sports can be found here on the CollegeSport Auckland website:http://drawsresults.sportsrunner.net/?org=CSA
You will need to know what team your child is in and what grade they are in to easily find their draws, results and points table each week.
College Sport oversees all college sports competitions and has a very good app that gives quick and easy access to information:
NETBALL draws can be found on the Netball Waitakere site:
Senior teams: www.netballwaitakere.co.nz/Draws-and-Results/wassc-senior-1
Junior Teams: www.netballwaitakere.co.nz/Draws-and-Results/wassc-junior-1
RUGBY draws can be found at the Auckland Rugby Union website:
www.aucklandrugby.co.nz/draws-results-1/school-rugby-draw
All draws are subject to change each week so it does pay to check them regularly.
UNIFORM AND EQUIPMENT:
It is the student's responsibility to ensure they have the correct uniform and equipment for their chosen sport(s).
Some teams will be provided with uniforms due to the nature of the sport and competition, some teams will use PE uniforms. Most sports have particular requirements around compulsory safety equipment that is required for every game:
Rugby - Boots and mouthguard compulsory (uniform provided).
Netball - Uniform provided. Sports shoes are compulsory.
Football - Boots, and shin pads are compulsory. Navy blue socks are required. Junior teams use PE uniforms.
Basketball - Sports shoes and mouthguard compulsory. Uniforms provided.
Hockey - Shin pads and mouthguard compulsory. Navy socks are required.
SUPPORT AND BEHAVIOR:
Parents/guardians and whānau are welcome to come and support teams. We welcome any positive support and encouragement on the sidelines but please leave the coaching to our coaches.
Here are the CollegeSport guidelines around creating a safe and enjoyable environment for our students which Waitākere College fully endorses:
As a supporter, I will:
Respect all officials, players, coaches, supporters, and opponents
Respect the health and safety requirements of the host school/venue
Not enter the field of play, unless requested to do so by an official
Observe all fixtures without questioning the decisions of coaches and officials Refrain from directing comments towards the opposition
Display a positive attitude at every game and be a role model for others

As a coach/manager, I will:
Enjoy being involved in sport
Respect all officials, colleagues, coaches, players, supporters, and opponents
Place the safety and welfare of my players/athletes before anything else
Be a positive role model at all times for my players/athletes

As a student, I will:
Enjoy playing sport and partake in healthy competition
Respect all officials, teammates, coaches, supporters, and opponents
Play by the rules of my sport at all times
Wear the appropriate attire for my sport
Be humble in victory and gracious in defeat
Represent my school with the utmost pride, dignity, honesty, and loyalty
Anything outside these guidelines will not be tolerated and a Sports Disciplinary Committee is set up to deal with any such issues.
TRANSPORT:
Most teams play home (at Waitākere College) and away (at opposition schools).
As you can imagine getting a large number of teams and students to away games each week can be difficult.
We welcome any parent/whānau support in regard to transport to games.
If you are able to regularly help transport your child's team to away games please let your coach or manager know or contact the sports department (details below):
PHOTOS: if you have a great photo or two please feel free to share them with us, photos can be emailed to Paul, Liam or Lisa Zidich [email protected] Please ensure you name the image with the team name and any other relevant info as photos may be used on the school website, social media, newsletters and yearbook.
We wish everyone an enjoyable and successful season.
Finally a massive thank you to all our sports coaches, managers, and drivers, without you sport in the college would not be possible.

Liam Mulrooney [email protected]
Sports Director

Paul McGrath [email protected]
Sports Coordinator