Personal experience of the Festival by Lola Porter and Analiese Marygold, Year 9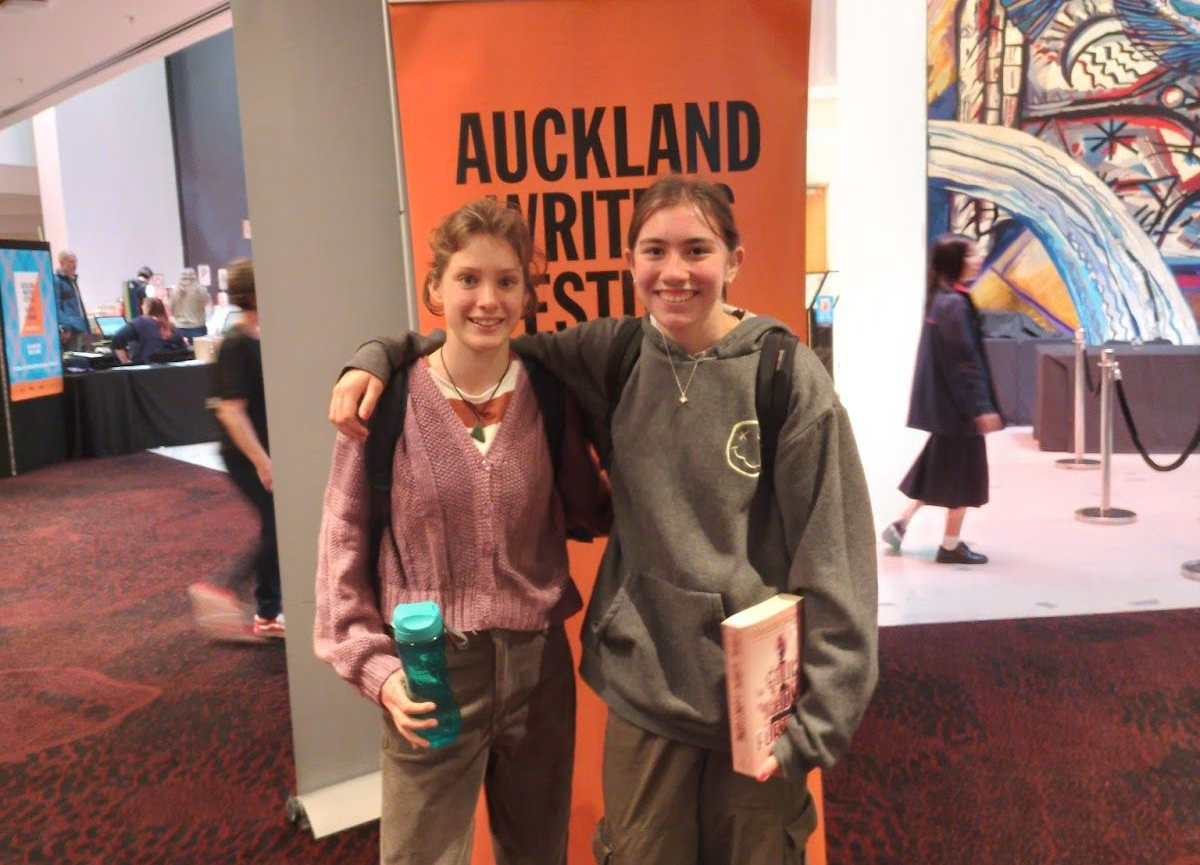 Writer's Festival by Lola Porter
The Writer's Festival 2023 was, quite simply, a blast. A stadium of dozens of different schools awaited us, packed full of voices and excitement. We were seated at the top of the stadium, and the stage seemed impossibly tiny. When the authors came on, though, their voices carried enough volume and enthusiasm to be heard in the tiniest corners of the cavernous room. Here is our experience of the writers' festival, author to author:
CHLOE GONG
Chloe Gong stood on the stage with a smile on her face. She was the author of the These Violent Delights series; she is a multi award winning twenty-something-year-old from humble beginnings. She was a perfect example of a person who was both an achiever and a hard worker in their art. I was incredibly grateful that Chloe was here today to share her wisdom.
Chloe spoke of her experiences as an author. During her teen years at Rangitoto College, she wrote several amateur novels on Notepad, editing each one to make it better than before. Finally, in college, she wrote These Violent Delights and it got sold to a publishing firm. Chloe told her story to us and also shared some useful writing tips for beginning authors.
"It's only over if you give up - writing new books is an opportunity to improve."
CHRIS TSE
After the lunch break, Chris Tse, the Poet Laureate, came on. He talked to us for a bit about poetry. Chris described the 10 common types of poetry subjects, from love to the apocalypse. He spoke to us about the beautiful metaphors and descriptions in poetry, and, even though I'm not a poetry person, the way he talked made me want to read some. The Poet Laureate cared about his job, and everyone could tell by the way he shared all his wisdom with us.
I really enjoyed all the talks at the Writer's Festival. The authors all spoke really well and shared their personal stories and writing tips. Below are all the books the authors talked to us about:
These Violent Delights, by Chloe Gong
Super Model Minority, by Chris Tse
Long Way Down, by Jason Reynolds
Kawai: For Such A Time As This, by Monty Soutar
My Experience at the Writer's Festival by Analiese Marygold
May the 18th 2023, and we had just arrived at Aotea Centre where the writer's festival would be held this year. We were standing only a few feet away from the front doors. Once we had entered and taken our seats in the front of the podium, I was jumping off the walls with excitement. The first author that entered the stage was Jayson Reynolds who was one of my personal favourites.
JASON REYNOLDS
Jayson Reynolds is an American author with a great personality. He started off his speech with an introduction and then went to stories of when he was younger and how he struggled with school. He also talked about the inequality of race and how differently they were treated. He added a lot of jokes and funny quotes to this.
Jayson Reynolds's writing journey was very intriguing. Jayson wanted to rap, he wanted to write his own raps, and so he did. He wrote and wrote but he never read a book until he was 18. One of his high school teachers said he would fail in life because of this. So when Jayson talked to his English teacher about how he didn't want to be stuck in the same class for the 3rd year in a row, they made an agreement; His English teacher gave him his very first book.
Curious Jayson read this book and then another and another until he fell in love with reading. Later on, he started writing stories of a coloured boy's life so people would understand the difficulties other people have to go through. His first book was titled; When I was the Greatest. And that is Jayson Reynolds's story.

MONTY SOUTAR
Monty Soutar was born in 1961 and became a historian author, and had a teaching job at Ruatoria Primary School. Monty Soutar had the idea of writing a novel in 2019 and started writing his novel during the 2020 lockdown. He spent half a year learning how to write fiction for he had never written fictional stories before. His book Kawai blew up and became a bestseller as soon as it was published and released. Monty Soutar was a nice guy but I found him very cocky about his book and he did mention over and over again about how amazing his book is and why you should buy it. Other than that I think he is a great author and very very talented.
Monty Soutar wants more children to learn about Māori culture and the language, and he includes Māori language and culture in his books and that's something I really like about Monty Soutar.