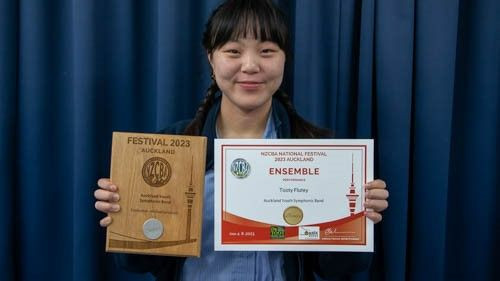 From August 4th to 6th, Year 10 student Jun-Hee Hwang took the stage with the Auckland Youth Symphonic Band and the flute ensemble 'Flutey Tootey' at the annual Band Festival organized by the New Zealand Concert Band Association. This event serves as a gathering for wind and brass musicians from across Aotearoa, with more than 500 musicians participating throughout the festival.
Impressively, the Auckland Youth Symphonic Band secured a Silver award for their performance, comprising three pieces encompassing a band classic, a fresh composition from New Zealand, and the iconic "Star Wars - The Force Awakens" music.
Jun-Hee is a dedicated member of our school orchestra and receives guidance from our esteemed Flute tutor, Alex Alford.