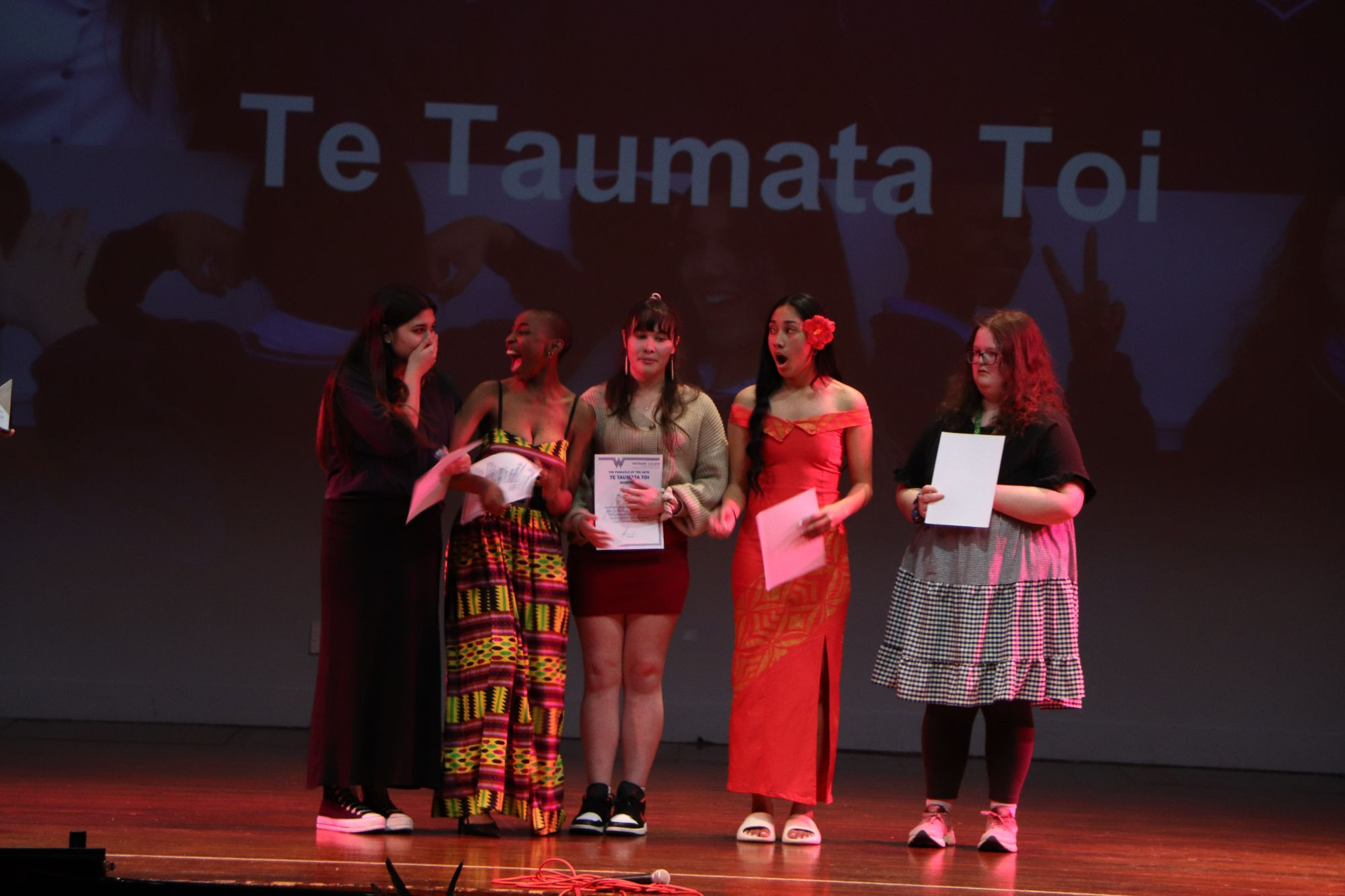 At Waitākere we observe the richness of Art & Culture at our school with a week of activities and celebrations. Monday and Tuesday lunchtimes saw ākonga creating masterpieces in Trash2Art workshops. Food is always an important part and this year we had hangi, Filipino, dumplings & Tongan food served over different lunchtimes.
The Year 13 Drama class performed their show 'Love and Information' which is a play that has over 100 characters in 45+ different situations. It's about our human nature of wanting to connect and understand one another. Lunchtime performances included the Hip Hop Crew and the Indian Cultural Group.
The week came to a close with the staff dressing up in costume, each department was given a letter as the theme. The ākonga enjoyed seeing this lighthearted side of their teachers and the English department was voted the winner for their Crayola Crayons costume with Special mention to all departments putting a huge effort into their costumes.
Importantly, we celebrated the enormous amount of success our ākonga received in our Arts & Culture Awards Ceremony held on Thursday the 5th of September in our newly refurbished school auditorium. We saw unprecedented numbers of guests as whānau and friends came to celebrate. The categories include Dance, Drama, Music, Communications and languages, Design Technology, Visual Art and Cultural Groups.
Our ceremony was opened with a powerful performance from our Kapa haka group and live performances including Year 10 student Maddison Meredith who performed a vocal solo with Mr Nightengale at the piano as well as a trio ensemble comprising Miss Hwang on piano, Junnie Hwang playing the flute and Levi Trail on saxophone.
We were also able to enjoy Year 13's Keziah Ripley-Cowans scholarship dance.
Te Taumata Toi - The Pinnacle of the Arts
The supreme award of the evening.
This is awarded to the Year 13 student who has excelled above all others in their consistent, sustained, and wide ranging contributions to Arts and Culture throughout their time at Waitākere College.
Nominees in 2023 were:
Chloe Wong
Chloe was in the Performing Arts Academy throughout Years 9 and 10. She was an open evening guide from 2019 to 2021 when she became an open evening performing arts subject guide in 2022 and 2023. Over several years she was a student helper during Year 8 Performing Arts taster days. Chloe was a Kiwi Buddy for International students and a member of the philosophy group. Chloe was in the school show in 2019 and 2021 and a School Show lead in 2023. In 2023 Chloe was a Performing Arts leader and established the Junior drama club. Chloe has excelled in Drama and Visual Arts achieving Top Scholar in Drama Level 1 & Level 2, and External Excellence in Level 2 Sculpture. She is an applicant for Scholarship Drama and Sculpture in 2023.
Joyce Mburugu
Joyce was in the Performing Arts Academy throughout Years 9 and 10. She was involved with the school show in 2021 and a school show lead in 2023's Bring It On. Joyce has been a Kiwi Buddy for International students and a part of Stand Up Stand Out and YouDance performances. She was a member of the African Group in 2021 and a Hip Hop Crew member and leader in 2023. In 2023 Joyce was a Performing Arts Leader and a Year 10 Dance Tutor. She has excelled in Dance throughout her years at Waitākere and received an Arts and Culture Award in 2021.
Trinity Elliot
Trinity excelled as a Kapa Haka performer and Te Reo student throughout her time at Waitākere College. She was a Kapa Haka Tuakana Teina through Year 11 to Year 13. Trinity won the Te Reo Award Mana Māori in 2022 and the Māori Badge of Success in 2020. She excelled as a dance student participating in YouDance and a school show dancer in 2023. Trinity was Lead Tuakana in Kapa Haka 2020-2023.
Rosalina Iakopo
Throughout her years at Waitākere Rosalina excelled in Dance. She was awarded Top Scholar in Dance in 2021 and 2022. Rosalina was a member and mentor for the school Hip Hop Crew and participated in YouDance and Zeal Hip Hop Dance. She was an open evening guide in 2021 and a Performing Arts leader in 2023. Rosalina was also a Sisters United mentor and leader for Pasifika Girls and a part of the Sāmoan group at the Polyfest competition.
Bethany Hennerly
During her time at Waitākere College Bethany performed in every school show - Chicago 2019, Changing Minds 2022 and Bring It On in 2023. She was an open evening helper in 2021 and participated in several art camps and field trips throughout her time at Waitākere. Bethany was a Merit and Excellence-achieving student in Drama, Visual Art and Design and Visual Communication from Year 9 until Year 13, receiving several awards in various years.
This year we congratulate Chloe Wong as our Te Taumata Toi winner!