At the end of term 3 we held the annual sports awards dinner to recognise and celebrate the talented individuals and teams who have enjoyed sporting success during the school year.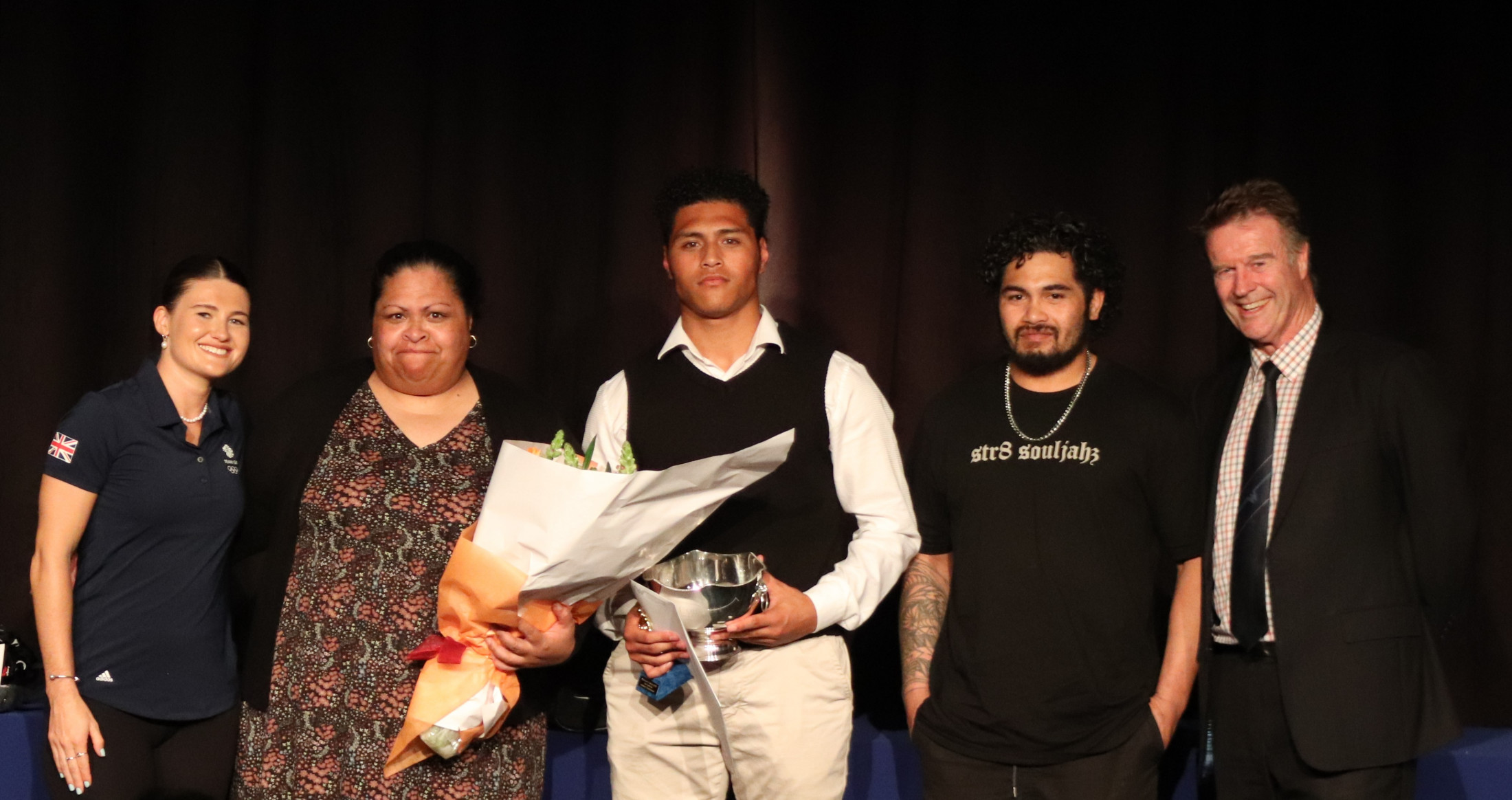 Awards presented on the night include a Most Improved Player and Most Valuable Player for every team, thank you gifts for all coaches and the presentation of sports caps to the Year 13 students in our premier sports teams. We finished the evening with the presentation of our elite awards for the outstanding sporting achievements of the year.
This year, the awards were held again at the Trusts Stadium, drawing a record-breaking crowd of over 300 people. We were very fortunate to have England and Great Britain sevens rugby representative Isla Norman-Bell and New Zealand White Sox pitcher Loran Parker in attendance to present awards and answer questions from our student sports council members.
Dux Ludorum
Our supreme award for sporting achievement is the Dux Ludorum, which was awarded to Adamson Tautaiolevao.
Adamson is a supreme athlete who excels at rugby and touch. At school, he plays 1st XV rugby, senior mixed touch and senior boys touch.
Adamson has represented Auckland in rugby in the U18 divisional team and was also the only player from the 1B 1st XV competition to be selected for the U17 Blues rugby squad, which is an outstanding achievement. Seeing Adamson receive recognition for his achievements was a proud moment for his family.
Dux Ludorum Runner Up
Our runner up for Dux Ludorum was Stella Tia.
An outstanding netball player who has enjoyed recognition for her talents far beyond school. Apart from representing the Premier 1 Netball Team, Stella has coached 2 Junior teams. Stella has represented the wider Waitākere region, as well as Tamaki Makaurau at the Aotearoa Māori Nationals where she was then selected for the NZ Māori Secondary School team.
Our other elite award winners were:
Junior Sportsperson of the Year: Erica Paltridge
Erica is an elite diver and has enjoyed tremendous success for her efforts in this sport. Erica has medaled in the Auckland Champs, the North Island Champs and represented New Zealand in Singapore.
Junior Sportsperson Runner Up: Adria Gawn
Adria is an outstanding all round athlete. She has excelled in Netball where she has represented the school in 10A Netball as well as the Premier 1 team. Adria has also made representative teams in Netball and is in the Auckland Magpies AFL team.
Algie Service to Sport: Leah McGrath
Leah is a team player in Premier Netball, Premier Mixed Touch, Intra school basketball and also a Score bench for home basketball games, a Junior Girls Touch Coach and a member of the 2023 Sports Council.
Official of the Year: Keziah Ripley-Cowan - Netball umpiring
Fair Play Award: Nehemiah Fougali
Over several years with Rugby and basketball, Nehemiah has always put in the effort to make sure the team has what is needed. Leading and running training sessions over the season, advising the team on game plans. An awesome role model to all, and also a great Captain this year.
Student Coach of the Year: Adria Gawn, Emily McCarthy and Peyton Nathan - 9 White Netball Coaches
Coach of the Year: Ethan Nisbett and Marzellus Salavaio - 1st XV Rugby
Staff Service to Sport: Ryan Stevens for his services to Basketball
Outstanding Performance: Keziah Ripley-Cowan - Selected for the A grade Netball UNISS tournament team
Team of the year: Premier 1 Netball - Qualifying for Nationals, top 6 at UNISS A Grade
Volunteer of the Year: Vanessa Caron and Errol Caron for their services to cricket
Congratulations to all award winners and particularly our Dux Ludorum, Adamson Tautaiolevao. Thank you to all our coaches, managers, helpers and transporters for all your time and effort with our teams. Without your mahi, sports in school would not happen.