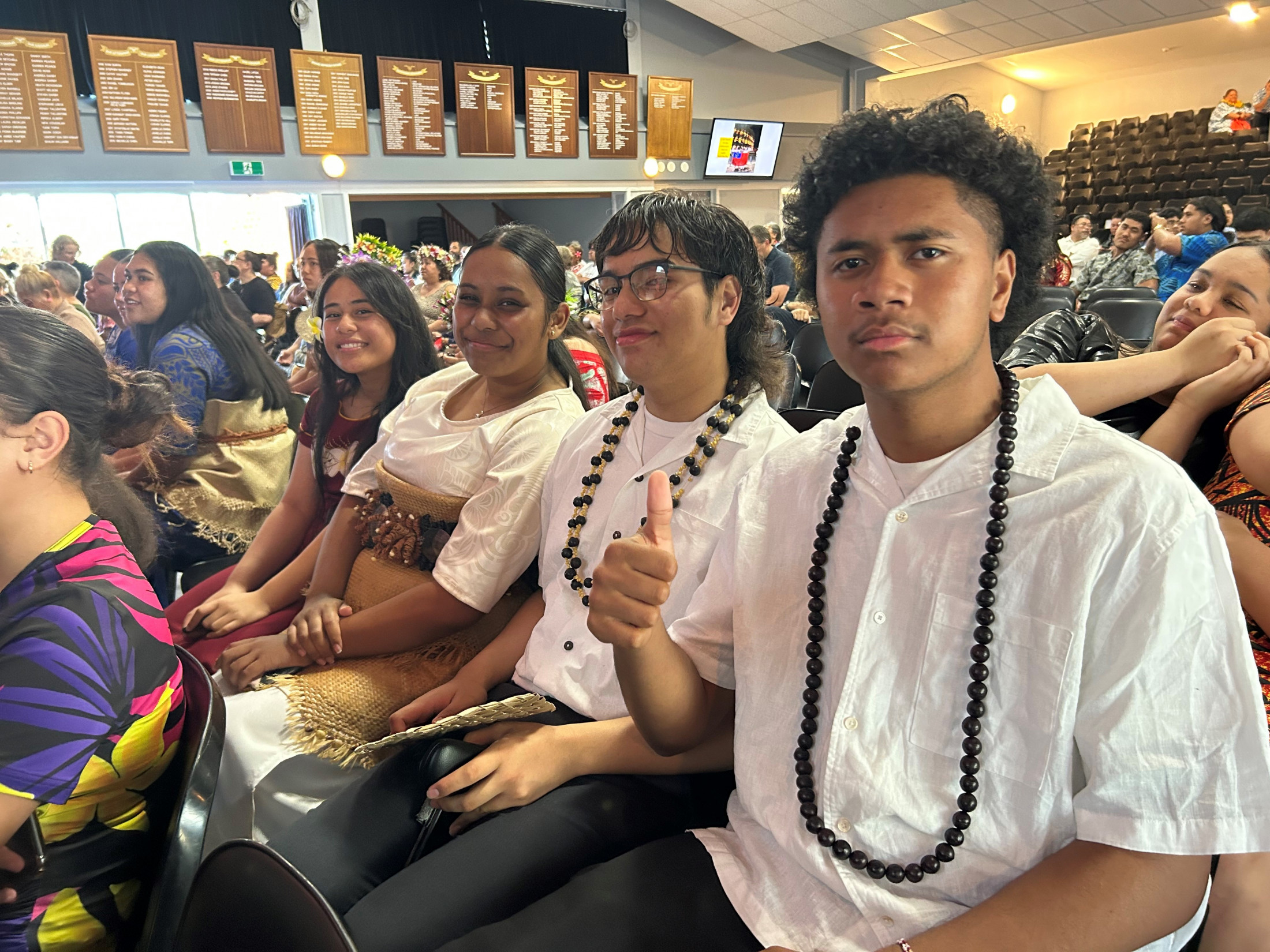 The Pasifika Celebration Awards of 2023 was another fantastic celebration for our school.
A great turnout by both award recipients and their families meant that we could all celebrate in full Pasifika style. It's a wonderful opportunity to celebrate and acknowledge the resilience, tenacity, sporting and academic prowess of our Pasifika students; Pasifika Excellence at its best!
Seeing our students achieve and getting recognition for their hard work warmed the hearts of many as a reminder of the sacrifices their ancestors made to get them to this point. Although it's only the beginning, the future is absolutely bright and all is possible for our Pasifika students.
The gifted and very talented Halaifonua Finau; film producer (Red, White and Brass, Panthers), dancer and actor, was our guest of honour. Halaifonua connected with our students and families and his story resonated with many. He encouraged our students to continue pushing forward, embrace the uniqueness of being Pasifika and before looking elsewhere, look into their own backyard first! malō aupito, Halaifonua!
Keziah Ripley-Cowan walked away with the prestigious Pasifika Profile Award 2023 for her years of excellence in representing the Pasifika community in and around Waitākere College.
Sarah Opetaia received the Pasifika Service to School Award.
Rosalina Iakopo won thePasifika Arts and Culture Award.
Adamson Tautaiolevao took away Pasifika Sportsman of the Year and Stella Tia walked away with the Pasifika Sportswoman of the Year.
The Top Pasifika Academic also went to Keziah Ripley-Cowan.
Our Nu'u Toa parents awards are to recognise the commitment of our Pasifika parents, who have attended workshops on NCEA, Literacy, Numeracy and many more throughout the year. Congratulations to Laloifi Ripley, Bernice Ese, Violet Va'aelua, Sairusi Madigi, Eliala & Lupeti Fihaki, Natalie Lober and Karlene Meredith. Fakafetai lasi for your continued support.
Congratulations to all our award winners and special mention to our graduating class of 2023!
Well done, seek new heights, stand tall and never forget those who have paved the way for you.
We would like to take this opportunity to thank and farewell an incredible educator, a firm believer in equitable access to education for all, a champion of Māori and Pasifika students and a great and humble man, Mr Ants Cotton. Fa'afetai lava Mr Cotton for your unwavering support of our students, their families and our Waitākere community. You have been a part of our Komiti Pasifika from the beginning and we are saddened to see you leave us. We are eternally grateful for your 29 years of unwavering service and leadership. Malo.
Many thanks to our Waitākere College village of parents, Board of Trustees, staff and colleagues whose unconditional and unrelenting support of our students is integral to their success. To the Prefects who represented our community this year: Fakaaue lahi for the example that you set for your peers in your leadership role. We appreciate your service to our Waitākere familia and wish you well as you move on from Waitākere. To our amazing students whose tenacity, determination, resilience and success, are the reason we can come together to celebrate - we congratulate you and wish you the best of luck for the coming year.
Thank you to Nu'u Toa for providing space, time and financial support for our students and their families to alleviate any pressure that acts as a barrier to their success. Thank you Nu'u Toa for sponsoring our Pasifika Celebration awards also.
And last but certainly not least, to all our Pasifika students, malō aupito for never giving up, malō for representing, malō le tauivi, malō le taumafai. Never forget who you are and where you come from. Be bold and courageous knowing that your Waitākere College family has always got your back.
Congratulations to you all!