Former Waitākere College student Jadzia Pyne in this week's Western Leader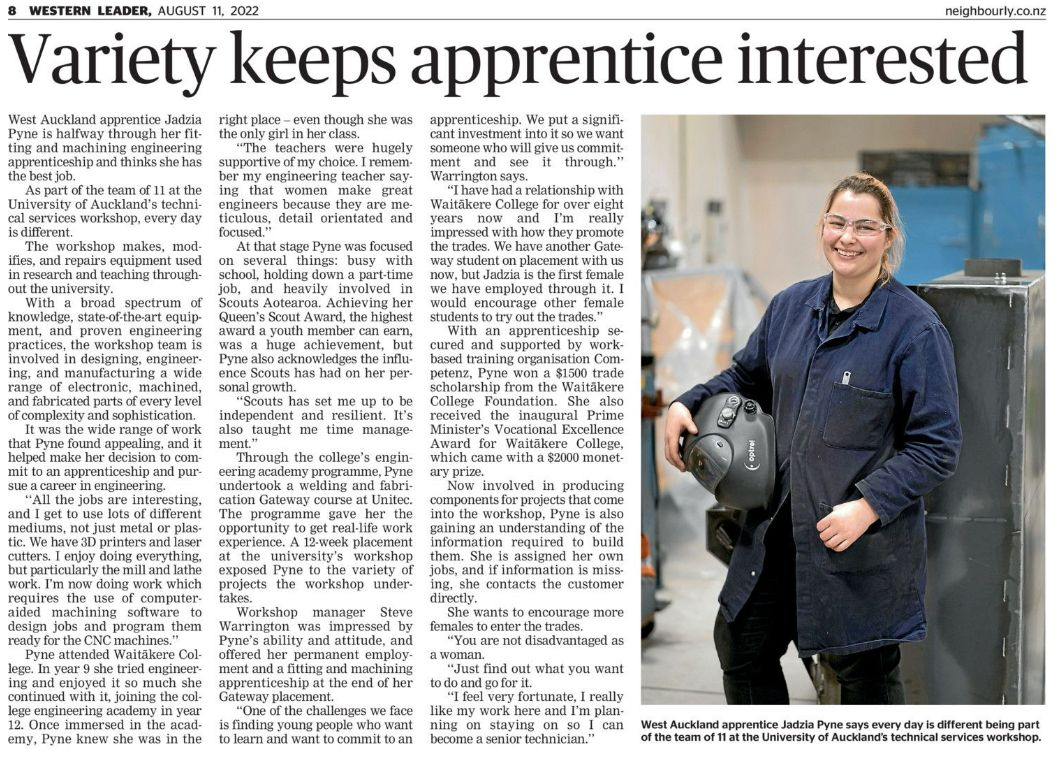 A former student at Waitākere College, Jazida Pyne is now halfway through her Fitting and Machining Engineering apprenticeship.
In year nine she chose to try engineering and enjoyed it so much that she continued with it, joining the Engineering Academy in year 12. Once immersed in the academy, Jadzia knew she was in the right place - even though she was the only girl in her class.
"The teachers were hugely supportive of my choice. I remember my engineering teacher saying that women make great engineers because they are meticulous, detail orientated and focussed."
Through Waitākere Colleges Engineering Academy Programme Jadzia also took a Welding and Fabrication Gateway course at Unitech which gave her real-life work experience during the 12-week placement. The workshop manager Steve Warrington was so impressed by her ability and attitude he offered her permanent employment and a fitting and machinery apprenticeship at the end of her Gateway placement.
Jadzia also won a trade scholarship from the Waitākere College Foundation worth $1500 as well as received the inaugural Prime Minister's Vocational Excellence Award for Waitākere college which came with a $2000 prize.
"You are not disadvantaged as a woman, Just find out what you want to do and go for it"
Extracts and quotes from the Western Leader article, read the full story here