After more than 2 years with the borders closed due to Covid, we were absolutely thrilled to welcome our International students to Waitākere College.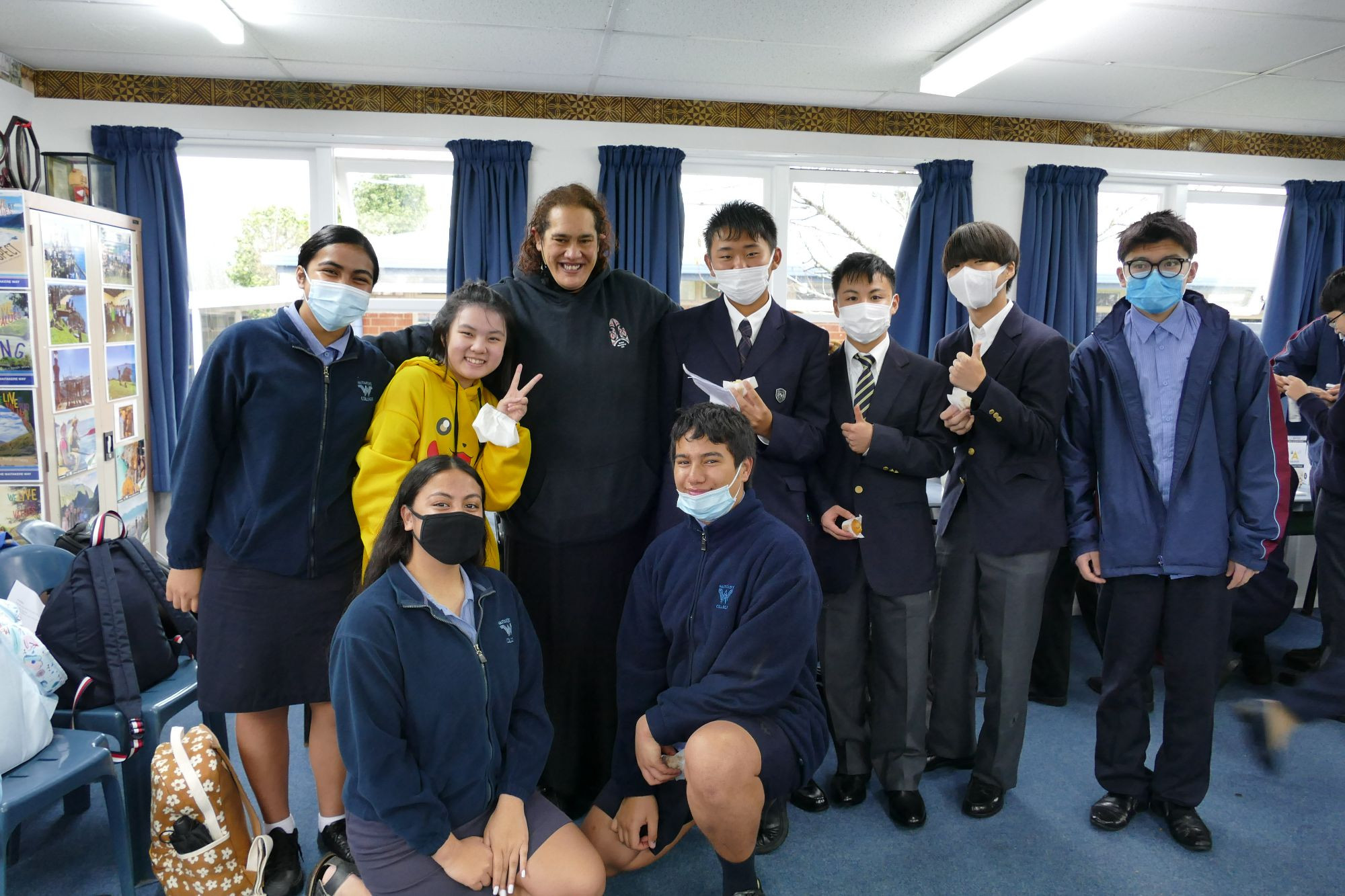 18 students from 15 different schools in Cambodia, Germany, Japan and Vietnam all arrived over the school holidays.
International students stay in New Zealand for various lengths of time from 2 weeks to 2 terms, they didn't know each other prior to starting at Waitākere College, and they are split up into homestays all over West Auckland – Te Atatu Peninsula, Titirangi, Glen Eden, Glendene, Massey, Swanson, and Henderson.
Amidst the pouring rain, we welcomed students with a powhiri in the warmth of the whare, conducted by the Rumaki class on behalf of tangata whenua, led by Matua Troy, Whaea Sam, and Whaea Tiana.
Mr Shanahan and Mr Cotton represented the school senior management. Mr Shanahan acknowledged the recent tragic loss of Japan's past Prime Minister Shinzo Abe.
Representing the manuhiri were Mr Alec Redvers-Hill, and Mr Wil Rangiwhetu, supported by parent Ms Liz Sarich and Ms Kath Kemp International Director and Ms Kaitlyn Taurere Homestay Coordinator.
Included in the manuhiri (visitors) were the students' Homestays and Agents, as well as the wonderful group of Waitākere College domestic students known as the kiwi buddies which included existing International students from Thailand and China. We ended the formalities with a social gathering with food and refreshments which gave everyone the chance to meet and mingle.
Pre-Covid many of the Kiwi buddies had already shown that they know how to be excellent ambassadors for our College and Aotearoa NZ. This group of about 35 teenagers across all year levels have engaged in many projects during the 2 and a half years that NZ's borders were closed, and so continued to grow their cultural competence, confidence, and skills, making themselves true global citizens who can feel comfortable in future global work, travel, and study situations.
Many of our Kiwi buddies have family links to places offshore, so they can understand some of the cultural differences that our visitors are encountering.
We look forward to learning with and enjoying experiences with our new International students and showing them the aroha of New Zealand and Waitākere College.